Serenity Haven: Women's Residential Treatment

About Serenity Haven
Serenity Haven is a program of Recovery Services of Northwest Ohio, a non-profit (501c3) organization. Serenity Haven opened in April of 1999 as a Women's Residential Treatment Center based in Fayette, OH. At that time, there was recognition that women local to the area had limited treatment options and resources available to them for residential care. Serenity Haven is a sixteen bed facility that focuses on providing chemical dependency, mental health and dual diagnosis services to the adult, female population. It functions as a residential program, and the length of stay is individualized and based on client treatment needs and progression of their treatment.
The focus of Serenity Haven is creating a safe, substance free environment where women can focus on finding and achieving long term recovery. Women are provided with an opportunity to examine their life circumstances and their addiction while surrounded by trained clinical staff that can assist them in problem solving barriers to finding recovery.
In addition to our mission of helping women find recovery, Serenity Haven provides pregnant individuals a safe and healthy environment in which they can tend to their pregnancies and deliver babies free from drugs and alcohol. Following the delivery of their child, the new moms are provided with the opportunity to remain at the facility with their infant as they continue to focus on their recovery and secure solid grounding for themselves and their child. Serenity Haven has assisted in the delivery of 47 drug free babies.
Programming
Upon entering Serenity Haven, clients are oriented to the facility and provided a diagnostic assessment by a clinically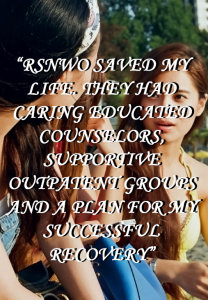 licensed provider. The diagnostic assessment establishes the individual's needs and guides the individualized treatment plan. Clients participate in intensive group and individual programming throughout their day, 7 days per week. Individual and group programming focuses on a variety of topics including the following: understanding the medical model of addiction and recovery, establishing a recovery orientated lifestyle, building sober supports, understanding triggers and cravings to use, understanding and healing from trauma, building healthy relationships and establishing healthy boundaries with others. Additionally, Serenity Haven provides a family therapy component to treatment as there is a belief that the family system is instrumental in the client finding support and healing. Case management services are provided to clients as well. Individuals seeking treatment often lack resources and need assistance in identifying the resource and getting connected. Case managers can assist them in this process and provide an additional layer of support to the individual. Random urine screen analysis is conducted to ensure that clients are maintaining sobriety throughout the treatment process. Medical services are provided to clients as well. The facility is staffed with a full time nurse available to monitor the client's health and physical wellbeing. Additionally, the nurse assists clients daily with medications. There is also a facility psychiatrist who prescribes medications that can assist clients in treating their mental health and substance use disorder symptoms. Finally, Recovery Services of Northwest Ohio partners with Health Partners of Western Ohio where primary medical care services are provided to our clients.
Treatment Team
Serenity Haven has a dynamic treatment team that is licensed and credentialed in a variety of disciplines in an effort to holistically treat the individual. Clinical staffs are licensed through the Ohio Counselor, Social Worker, Marriage and Family Therapist Board and Ohio Chemical Dependency Professionals Board. Medical staffs are licensed through the Ohio Board of Nursing and State of Ohio Medical Board. The treatment process is truly collaborative in nature and the team meets daily to discuss and problem solve client treatment needs.

Twelve-Step Groups and Sober Support
Clients of Serenity Haven attend a daily Twelve-Step Group in an effort to better understand the Twelve-Step process and increase their knowledge and understanding of where local Twelve-Step meetings are based in the community. Additionally, individuals are required to make daily contact with sober supports they establish at Twelve-Step meetings so that they can establish a greater sober support base and learn from others that are successful in obtaining long term sobriety.
Accreditations
Ohio Department of Mental Health and Addiction Services (OMHAS)
Commission on Accreditation for Rehabilitation Facilities (CARF)